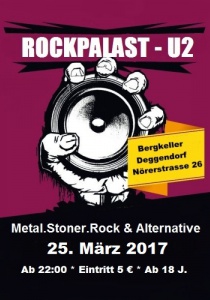 ROCKPALAST - U2 PartySa, 25.03.2017
Datum, Zeit
Sa, 25.03.2017
Dieses mal gibts mehr Grunge & Crossover & Indiesound...Muse, Kyuss, Vollbeat, Audioslave, Korn, Deus, The Notwist, Kula Shaker, Pearl Jam, Soundgarden, Monster Magnet, Radiohead, Life of Agony, Alice in Chains, Nirvana, Fugazi, The White Srtipes, Fever Ray, Nina Simone, The Verve, Nneka, Florence + The Machine...lasst euch überraschen!
Wer die "alten Zeiten vom ROCKPALAST & U2" vermisst, ist hier genau richtig! Für die, denen der Rockpalast kein Begriff ist: Der Rockpalast, später U2, war Anfang der 90er eine Location für alle Liebhaber von Metal, Stoner, Rock und Indiesound.
Euch erwartet außerdem: The Doors, Alex Harvey Band, Kinks, The Smashing Pumpkins, Kiss, Motörhead, Limp Bizkit, Korn, Fear Factory, Danzig, , Type O Negative, Tool, Sepultura, Slipknot, Primus, Led Zeppelin, Airbourne, Krokus, DIO, Deep Purple, White Stripes, Jet, AC/DC, Uriah Heep, Billy Squier, Blues Pills, Mötley Crüe, Rainbow, Eric Burdon, Rory Gallagher,Subways, Primal Scream, Lenny Kravitz, Amy Winehouse, Billy Talent, CCR, Led Zeppelin, Black Sabbath, The Strokes, Bullet, Guns'n Roses, Quiet Riot, Jack White, The Black Keys, Accept, Judas Priest, Rolling Stones, Queens Of The Stone Age, Foo Fighters, Turbonegro, Metallica, Böhse Onkelz u.v.m...